5MW Solar Power Project in Belen
Representative Participant

NTT Data Institute of Management Consulting, Inc.
Partner Participant: Generacion Solar Fotovoltaica Belen Sociedad Anonima





Coope quanacaste RL.,
Registered
Active
Outline of GHG Mitigation Activity
This project is to introduce a large-scale solar power plant in Belen, Guanacaste province, Costa Rica.
The solar power plant enables to supply electricity to the customers of Coope Guanacaste, a power company in Guanacaste.
Solar panels to be installed are manufactured by Panasonic Corporation, providing top-level performance in the industry: 19.7% nominal conversion efficiency with a output of 325 watts per panel. This 5MW-scale power plant uses 15,000 PV panels installed in the precinct of Coope Guanacaste.
It enables Coope Guanacaste to diversify the sources of the energy supply by introducing renewable energy, complement the water-power generation in dry season, and contribute to GHG emission reductions.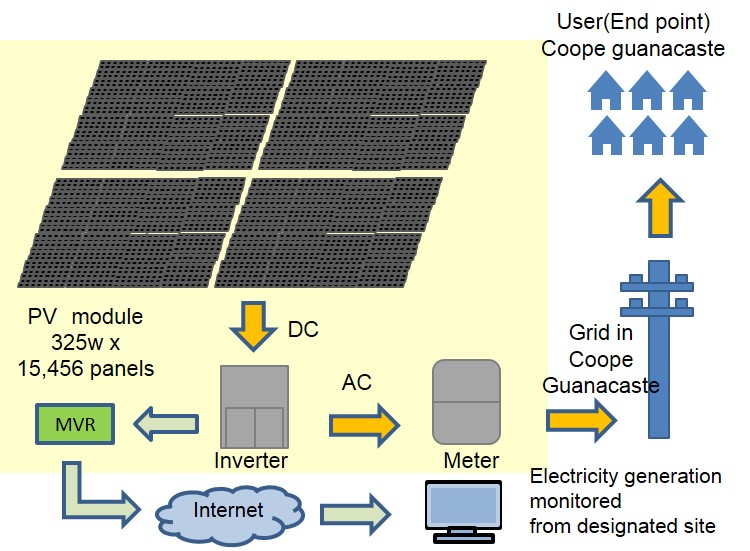 Expected GHG Emission Reductions
2,245 tCO2-eq./year
Emission reductions (ERp) = REp – PEp   ※PEp = 0
                                           = REp REp = Reference CO2 emissions
         = Estimated amount of annual power generation
             × Grid CO2 emission factor
PEp = Project CO2 emissions
JCM Methodology
| Methodology No. | Title | Methodology Proponent |
| --- | --- | --- |
| CR_AM001 Ver1.0 | Installation of Solar PV System | Institute for Global Environmental Strategies |
Progress
JCM Project Registration
| Reference No. | Project Title | Registration Date |
| --- | --- | --- |
| CR001 | 5MW Solar Power Project in Belen | 23 Feb 20 |