Installation of High Efficiency Centrifugal Chiller for Air Conditioning System in Clothing Tag Factory
Representative Participant

Ebara Refrigeration Equipment & Systems Co., Ltd.
Partner Participant: NEXT ACCESSORIES LTD., EBARA THERMAL SYSTEMS(THAILAND) CO., LTD.
Registered
Credit issued
Active
Outline of GHG Mitigation Activity
This project aims to saving energy and reducing CO2 emissions by introducing high efficiency Centrifugal Chillers for an air-conditioning system in the Clothing Tag Factory in Bangladesh.
The project chiller applies two-stage compression with economizer and sub-cooler cycle. In addition, high efficient operation is achieved in wide range of cooling load by applying variable suction vanes to an impeller of the turbine. The chillers use high efficiency refrigerant HFC245fa (ODP=0).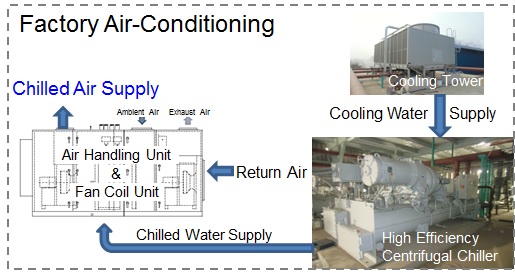 Expected GHG Emission Reductions
578 tCO2-eq./year
JCM Methodology
| Methodology No. | Title | Methodology Proponent |
| --- | --- | --- |
| BD_AM001 Ver1.0 | Energy Saving by Introduction of High Efficiency Centrifugal Chiller | Nippon Koei Co., Ltd. |
Progress
JCM Project Registration
| Reference No. | Project Title | Registration Date |
| --- | --- | --- |
| BD002 | Installation of High Efficiency Centrifugal Chiller for Air Conditioning System in Clothing Tag Factory in Bangladesh | 10 Jan 2018 |
Issuance of credits
| | Reference No. | Monitoring Period | Date of JC decision on notification | Amounts of Credits Issued |
| --- | --- | --- | --- | --- |
| | BD002 | 01 Mar 17 - 31 Jul 19 | 28 Mar 22 | 144 |