Energy Saving in Factories with Air-Conditioning Control System
Representative Participant

Yuko-Keiso Co., Ltd.
Partner Participant: Nidec Vietnam Co., Nidec SERVO Co., Nidec TOSOK Co., Nidec COPAL Co., Nidec SANKYO Co., Nidec SEIMITSU Co.
Not registered
Active
Outline of GHG Mitigation Activity
This project introduces "Air conditioning control system" to air conditioners in six component factories in Vietnam. The system constantly monitors operation status of the compressor equipped in the air conditioner outdoor unit by measuring an electric current at the optimum programmed timing. Controlling the compressor once or twice in thirty minutes and the system reduces energy consumption and CO2 emissions. This system can be introduced to existing facilities and realizes energy-saving by preventing excessive cooling without impairing comfortableness.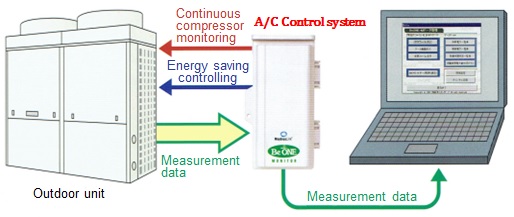 Expected GHG Emission Reductions
3,297 tCO2-eq./year
= Reference emissions − Project emissions
= 23,907.3 [tCO2/year] − 20,609.8 [tCO2/year]
JCM Methodology
| Methodology No. | Title | Methodology Proponent |
| --- | --- | --- |
| VN_AM015 ver1.0 | Installation of compressor control system(s) for split type air conditioner(s) | Yuko-KEISO Co., Ltd; Mitsubishi UFJ Morgan Stanley Securities Co., Ltd. |