Installation of Energy Saving Equipment and Solar Power System to Complex Building in Jakarta
Representative Participant

Yuko Keiso Co., Ltd.
Partner Participant: PT SENAYAN TRIKARYA SEMPANA
Not registered
Installing
Outline of GHG Mitigation Activity
This project introduces high-efficiency chillers(4 units) and air conditioners (8 outdoor units and 41 indoor units), as well as a PV system (approx. 0.3 MW) in Senayan Square complex in Jakarta and reduces greenhouse gas (GHG) emissions by replacing electricity consumption from the grid through self consumption of electricity generated by the PV system.
This project aims to contribute to sustainable development in the country by presenting a "long-life model project" for urban development that reduces the environmental impact of the building life cycle through the introduction of advanced technologies with low environmental impact.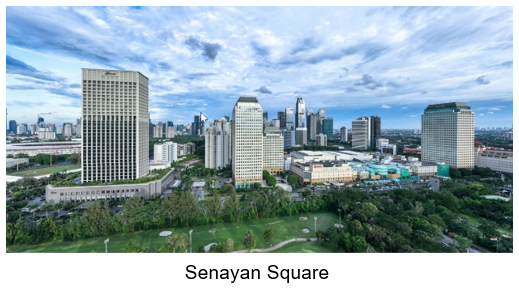 Expected GHG Emission Reductions
1,493 tCO2-eq./year
=(reference chillers energy consumption − project chillers energy consumption) x energy saving CO2 emission factor
+ (reference air conditioners energy consumption − project air conditioners energy consumption) x energy saving CO2 emission factor
+ Project power generation x renewable energy CO2 emission factor
Site of JCM Project