47MW Solar Power Project Utilizing PMGD Scheme
Representative Participant

DAIICHI JITSUGYO CO., LTD.
Partner Participant: Pinguino Emperador SpA, oEnergy IPP SpA, PFV Albatros SpA, PFV Becacina SpA,
PFV Caiti SpA, Canelillo Solar SpA, Chapin Solar SpA, Chilca Solar SpA, PFV El Pelicano SpA, PFV El Turpial SpA, PFV Jilguero SpA, PFV La Cotorra SpA, PFV La Quintrala SpA, PFV Las Loicas SpA, PFV Loros Tricahues SpA,
PFV Martin Pescador SpA
Not registered
Installing
Outline of GHG Mitigation Activity
Total 47MW solar power systems are installed in14 sites. The generated electricity replaces a part of grid electricity with renewable energy and reduces greenhouse gas (GHG) emissions.
This project contributes to National Energy Policy in Chile, which is to generate 80% electricity by renewable sources by 2030 and 100% by zero emission sources by 2050.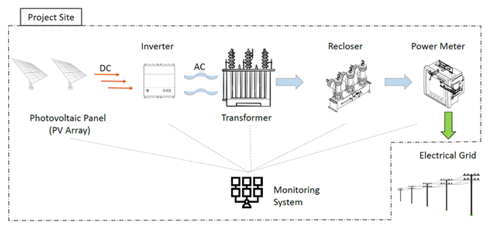 Expected GHG Emission Reductions
34,418 tCO2-eq./year
= (Reference CO₂ emissions)
– (Project CO₂ emissions)
・ Reference CO₂ emissions
= (Quantity of the electricity generated by the project) [MWh/year]
×Emission factor [tCO₂/MWh]
・ Project CO₂ emissions
= 0 [tCO₂/year])
Site of JCM Project