Introduction of High-efficiency Boiler System to Rubber Belt Plant
Representative Participant

Bando Chemical Industries, Ltd.
Partner Participant: Bando Manufacturing (Thailand) Ltd.
Not registered
Active
Outline of GHG Mitigation Activity
By introducing a new high-efficiency boiler and changing fuel of current flue and smoke tube boilers in rubber belt plant, this project reduces energy consumption and CO2 emission.
1)Introduce a "One-Through Boiler " with 98% high efficiency.
2)Change boiler fuel types from heavy oil to natural gas which has smaller CO2 emission factor and increase efficiency from 88% to 93% by adding "Economizer" to current three boilers.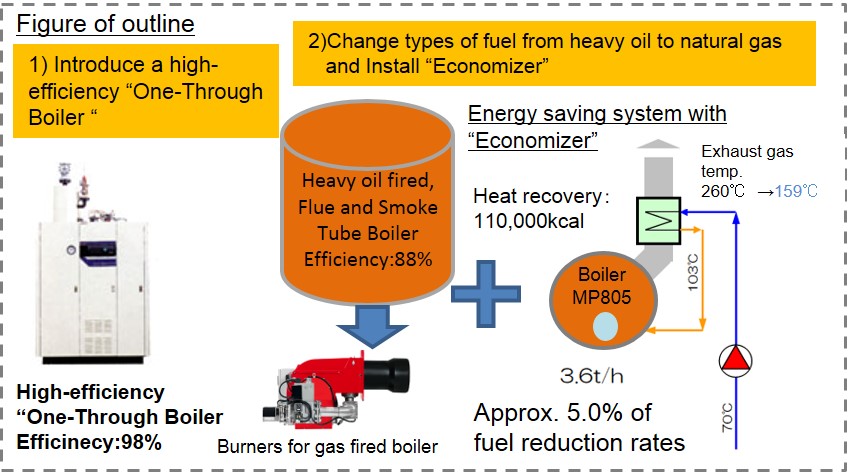 Expected GHG Emission Reductions
3,060 tCO2-eq./year
= Reference emissions − Project emissions
= 9,738 [tCO2/year] − 6,678 [tCO2/year]
JCM Methodology
| Methodology No. | Title | Methodology Proponent |
| --- | --- | --- |
| TH_AM010 ver1.0 | Energy Saving by Introduction of High Efficiency Once-through Boiler and Installation of Economizer into Existing Boiler, Version 01.0 | Nippon Koei Co., Ltd. |