Energy Saving for Air-Conditioning at Shopping Mall with High Efficiency Centrifugal Chiller
Representative Participant

NTT FACILITIES, INC.
Partner Participant: PT.PAKUWON JATI Tbk
Registered
Credit issued
Active
Outline of GHG Mitigation Activity
The project aims to reduce electricity consumption in the shopping mall through introducing advanced & efficient Japanese centrifugal Chiller system.
 The project is to replace existing central cooling system with high efficient centrifugal chiller with capacity of 966USRT *4 sets and 569USRT * 1 set in Pakuwon's shopping mall, Tunjungan Plaza, as well as to replace existing 8 cooling towers with efficient Japanese models.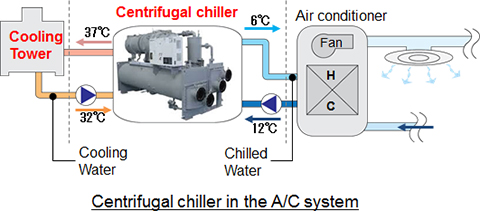 Expected GHG Emission Reductions
398 tCO2-eq./year
The GHG emission reductions are calculated based on the estimated electricity consumptions based on the conservatively estimated COP of a reference cooling system and a project COP of the centrifugal chiller as well as the grid emission factor.
JCM Methodology
| Methodology No. | Title | Methodology Proponent |
| --- | --- | --- |
| ID_AM002 Ver2.0 | Energy Saving by Introduction of High Efficiency Centrifugal Chiller | Nippon Koei Co., Ltd. |
Progress
JCM Project Registration
| Reference No. | Project Title | Registration Date |
| --- | --- | --- |
| ID009 | Energy Saving for Air-Conditioning at Shopping Mall with High Efficiency Centrifugal Chiller | 04 Dec 2017 |
Issuance of credits
| | Reference No. | Monitoring Period | Date of JC decision on notification | Amounts of Credits Issued |
| --- | --- | --- | --- | --- |
| | ID_009 | 01 Jan 17 - 30 Apr 18 | 10 Jan 20 | 252 |