Introduction of Amorphous High Efficiency Transformers in Northern, Central and Southern Power Grids
Representative Participant

Yuko Keiso Co., Ltd.
Partner Participant: EVN SPC, EVN HANOI, KHANH HOA PC, DON NAI PC
Registered
Active
Outline of GHG Mitigation Activity
The purpose of this project is to reduce CO2 emission through the promotion of amorphous high efficiency transformers in southern and central power distribution systems of Vietnam.
3,672 transformers in total (2,364 for EVN SPC (Southern power grid), 186 for EVN HANOI, 416 for KHANH HOA PC, and 706 for DON NAI PC) are introduced to realize a reduction of distribution losses which contribute to CO2 emission reduction.
Hitachi Metals in Japan supplies Amorphous alloy to be used as core of the transformers, then THIBIDI and HANAKA fabricates the transformers.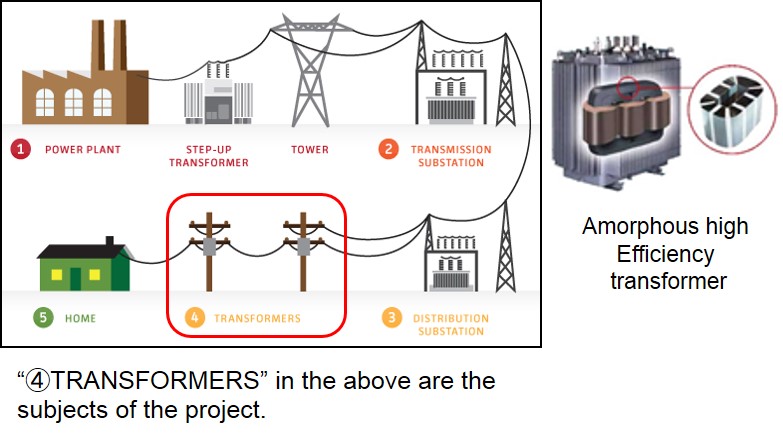 Expected GHG Emission Reductions
3,477 tCO2-eq./year
= (No load losses of the reference transformer – No load losses of the project transformer) x
(1 – Blackout rate during the project period) x CO2 emission factor of the grid
JCM Methodology
| Methodology No. | Title | Methodology Proponent |
| --- | --- | --- |
| VN_AM005 Ver1.0 | Installation of energy efficient transformers in a power distribution grid | YUKO-KEISO Co., Ltd., Mitsubishi UFJ Morgan Stanley Securities Co., Ltd. |
Progress
JCM Project Registration
| Reference No. | Project Title | Registration Date |
| --- | --- | --- |
| VN013 | Introduction of Amorphous High Efficiency Transformers in Northern, Central and Southern Power Grids | 28-May-19 |