Introduction of 5MW Floating Solar Power System on Industrial Water Reservoir
Representative Participant

TSB Co.,Ltd.
Partner Participant: Green Energy Co., Ltd.





Infinite Green Co., Ltd.
Registered
Active
Outline of GHG Mitigation Activity
This project introduces solar power system on industrial water reservoir to provide power for industrial park.
Lower temperature on water enables efficient power generation. The system has a power cut function to reduce the risk of electric shock, and has an ability to increase total output by suppressing negative effect caused by variation of each panel's capability.
This project utilizes unused space to generate power for adjacent industrial park, and the method is applicable to other industrial parks in Thailand.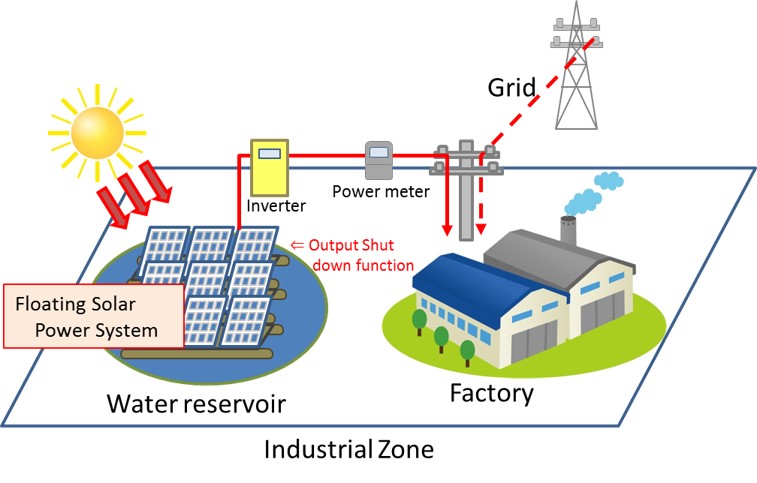 Expected GHG Emission Reductions
2,552 tCO2-eq./year
= (Reference CO2 Emission) [tCO2/year]
       - (Project CO2 Emission) [tCO2/year]
= (( Reference Power Consumption) [MWh/year]
   -(Project Power Consumption)) [MWh/year]
× Emission Factor[tCO2/MWh]
=(8,000.7 – 0)[MWh/year]x0.319[tCO2/MWh]
JCM Methodology
| Methodology No. | Title | Methodology Proponent |
| --- | --- | --- |
| TH_AM001 Ver1.0 | Installation of Solar PV System | Pacific Consultants Co., Ltd. |
Progress
JCM Project Registration
| Reference No. | Project Title | Registration Date |
| --- | --- | --- |
| TH014 | Introduction of 5MW Floating Solar Power System on Industrial Water Reservoir in Thailand | 28-Sep-20 |