Introduction of 1MW Rooftop Solar Power System to University
Representative Participant

Waseda Environmental Institute Co., Ltd.
Partner Participant: MGM Innova Capital Chile SpA / NTT Data Institute of Management Consulting Inc.
Registered
Active
Outline of GHG Mitigation Activity
  This project aims to reduce CO2 emissions by introducing a 992kW rooftop solar system at 4 campuses of the Chilean university Universidad Técnica Federico Santa María (San Joaquin, Valparaíso, Viña del Mar, and Vitacura).
  Solar panels produced by Panasonic Corporation will be used. These feature the industry's top class  technology, with each panel having an output of 325W and a module efficiency of 19.7%.
  Once the panels are installed on its roofs, the university will consume in-house the electricity generated by the panels. The Chilean partner, MGM Innova Capital, will sell the surplus power to the grid under the PMGD framework (from its acronym in Spanish, meaning Small Means of Distributed Generation).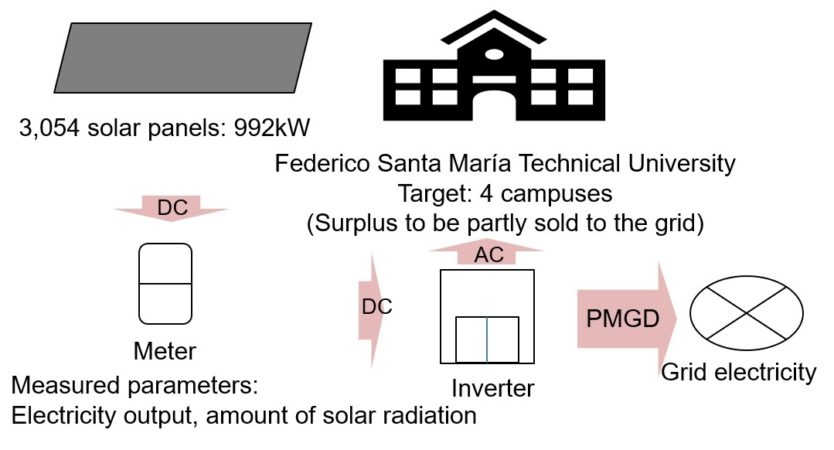 Expected GHG Emission Reductions
517 tCO2-eq./year
Emission reduction ERp = REp – PEp      (* PEp = 0)
                                         = REp
REp = Reference emissions
       = [Estimated annual energy generation] x
          [Emission factor of grid electricity]
       = 1,647.57 MWh/year x 0.314 tCO2/MWh
       = 517 tCO2/year
PEp = Project emissions = 0
JCM Methodology
| Methodology No. | Title | Methodology Proponent |
| --- | --- | --- |
| CL_AM001 Ver1.0 | Installation of Solar PV System | Institute for Global Environmental Strategies |
Progress
JCM Project Registration
| Reference No. | Project Title | Registration Date |
| --- | --- | --- |
| CL001 | Introduction of 1MW Rooftop Solar Power Systems to University | 8-Oct-19 |