Introduction of Energy Efficient Refrigeration System in Logistics Center
Representative Participant

Ryobi Holdings Co., Ltd.
Partner Participant: Ryobi Myanmar Distribution Service Co., Ltd.
Not registered
Active
Outline of GHG Mitigation Activity
1)Demand of logistic center for frozen and chilled foods is increasing in Myanmar.
But it is not easy to add facilities there due to their chronic electricity shortages.
By installing high efficient refrigerator, this project reduces energy consumption and CO2 emission.
2)This refrigerator uses NH3 as primary, CO2 as secondary refrigerant. They have a smaller global warming potential compared to CFC substitute, and lead to reduce CO2 emission.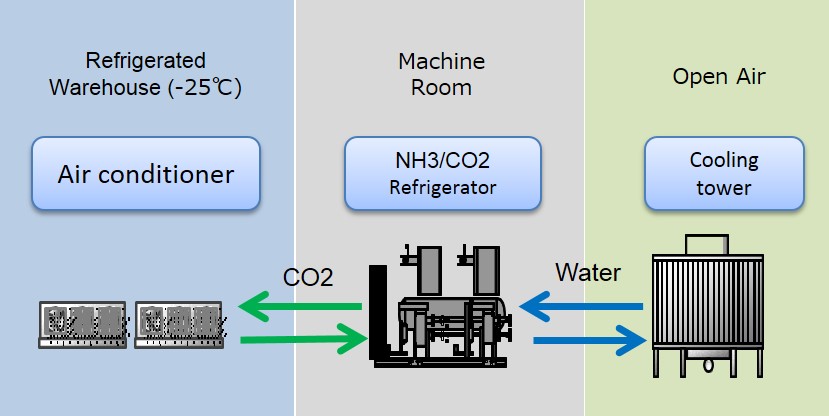 Expected GHG Emission Reductions
125 tCO2-eq./year
GHG emission reductions
   = Reference emissions – Project emissions
GHG emission (tCO2/y) = Electricity consumption (MWh) x Emission factor(MWh/y)
CO2 Emission factor = 0.425(tCO2/MWh)
JCM Methodology
| Methodology No. | Title | Methodology Proponent |
| --- | --- | --- |
| MM_AM002 Ver1.0 | Installation of Energy-efficient Refrigerators Using Natural Refrigerant at Cold Storage | Ryobi Holdings Co., Ltd. |