Introduction of 1MW Solar Power System and High Efficiency Centrifugal Chiller in Large Shopping Mall
Representative Participant

AEON MALL Co., Ltd.
Partner Participant: AEONMALL (CAMBODIA)CO., LTD.
Not registered
Active
Outline of GHG Mitigation Activity
This project reduces electric power consumption of a new large shopping mall by introducing 1MW-class photovoltaic generation equipment(PV) and high-efficient chiller.
The electricity generated by the PV replaces grid power, resulting in the GHG emission reduction, along with the energy-saving effect by the chiller.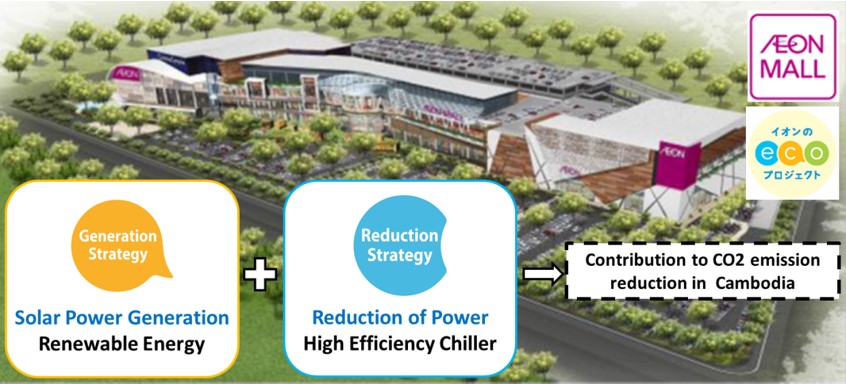 Expected GHG Emission Reductions
881 tCO2-eq./year
1) Solar Power Generation:
522 [tCO2/year]
2) High Efficiency Chiller:
359.9 [tCO2/year]
JCM Methodology
| Methodology No. | Title | Methodology Proponent |
| --- | --- | --- |
| KH_AM003 ver1.0 | Introduction of High Efficiency Centrifugal Chiller | AEON MALL Co., Ltd. |
| KH_AM002 ver1.0 | Installation of Solar PV System | Institute for Global Environmental Strategies |