Introduction of Solar PV System at Salt Factory
Representative Participant

Pacific Consultants Co., Ltd.
Partner Participant: Krystalline Salt Limited (Kaysalt)
Registered
Credit issued
Active
Outline of GHG Mitigation Activity
This project aims to reduce CO2 emissions by introducing a 991kW solar PV system at a salt factory of Krystalline Salt Limited (Kaysalt). All of the generated electricity is used in the factory. The factory usually uses grid electricity but also uses captive diesel power generation during power outages. Therefore the project introduces a controller device which enables safe operation of the solar PV system together with the diesel generators. The generated electricity will displace electricity use from both grid and diesel generators.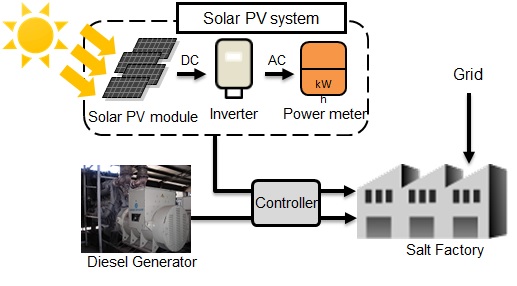 Expected GHG Emission Reductions
630 tCO2-eq./year
= PV generation
    × Reference emission factor
JCM Methodology
| Methodology No. | Title | Methodology Proponent |
| --- | --- | --- |
| KE_AM002 Ver1.0 | Installation of Solar PV System | Pacific Consultants Co., Ltd. |