Eco-driving by Utilizing Digital Tachograph System
Representative Participant

Nippon Express Co., Ltd.
Partner Participant: NIPPON EXPRESS (VIETNAM)
JCM Project Cycle:Registered
JCM Project Cycle:Credit issued
Status:Active
Outline of GHG Mitigation Activity
In this project, 130 trucks in use by NIPPON EXPRESS (VIETNAM) are fitted with an eco-drive improving system using digital tachographs, so that the quantity of fuel consumption, running distance and relevant data on driving behavior of drivers are continuously analyzed with cloud network in Binh Duong and Hanoi city, Vietnam.
The drivers are given advice in order to improve their driving behavior based on the analyzed data, and feedback linked to the training outcome is provided for further improving the driving behavior.
This project contributes to realizing improvement of transportation quality as well as fuel efficiency, which is directly linked with reduction in CO2 emissions.

Expected GHG Emission Reductions
Site of JCM Project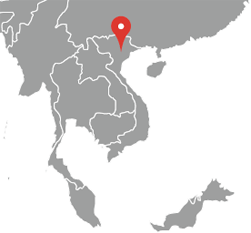 JCM Methodology
| | | |
| --- | --- | --- |
| Methodology No. | Title | Methodology Proponent |
| VN_AM001 | Transportation energy efficiency activities by installing digital tachograph systems | Nippon Express Co., Ltd, Nittsu Research Institute and Consulting, Inc., Mitsubishi UFJ Morgan Stanley Securities Co., Ltd. |