Energy Saving for Textile Factory Facility Cooling by High-efficiency Centrifugal Chiller
Representative Participant

Ebara Refrigeration Equipment & Systems Co., Ltd.
Partner Participant: PT. Nikawa Textile Industry, PT. Ebara Indonesia
Registered
Credit issued
Active
Outline of GHG Mitigation Activity
The textile industry is a major industry in Indonesia. To produce high quality products, air-conditioning is of key importance. For reducing GHG for the Textile industry, a high-efficiency chiller is one of the best options to choose. The existing 500USRt chiller is replaced by a high-efficiency centrifugal chiller, which consists of a two-stage high efficiency compressor, economizer and sub-cooler system. By applying a purge unit with Activated Carbon, nearly 100% of HFC-245fa refrigerant with 0 ODP is recovered for excellence in GHG reduction.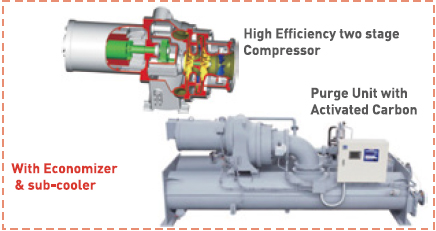 Expected GHG Emission Reductions
205 tCO2-eq./year
= (Reference CO2 emissions) [tCO2/year]
   − (Project CO2 emissions) [tCO2/year]
Reference CO2 emissions : 1,942.56 [tCO2/year]
Project CO2 emissions : 1,737.42 [tCO2/year]
JCM Methodology
| Methodology No. | Title | Methodology Proponent |
| --- | --- | --- |
| ID_AM002 Ver2.0 | Energy Saving by Introduction of High Efficiency Centrifugal Chiller | Nippon Koei Co., Ltd. |
Progress
JCM Project Registration
| Reference No. | Project Title | Registration Date |
| --- | --- | --- |
| ID004 | Energy Saving for Air-Conditioning at Textile Factory by Introducing High-efficiency Centrifugal Chiller in Karawang West Java | 24 Mar 16 |
Issuance of credits
| | Reference No. | Monitoring Period | Date of JC decision on notification | Amounts of Credits Issued |
| --- | --- | --- | --- | --- |
| - | ID004 | 20 Dec 14 - 31 May 16 | 10 Jul 18 | 256 |