Energy Conservation at Cement Plant
FS Entity

Taiheiyo Engineering Corporation
Outline of GHG Mitigation Activity
Expected GHG Emission Reductions
78,000tCO2/yr of emission reductions are expected, by converting clinker manufacturing process from wet type to dry type (at 180,000t/yr production).
 Further additional emission reductions will be possible due to the introduction of advanced energy efficiency technologies/equipment.
Site of JCM Project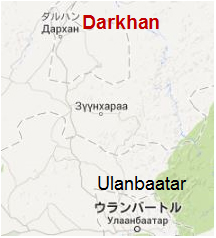 JCM Methodology
Based on "CSI Protocol" as a GHG MRV methodology proposed by CSI (Cement Sustainable Initiative under WBCSD (World Business Counsel for Sustainable Development), a JCM methodology applicable to the proposed project will be developed according to the Japan-Mongolia JCM Guidelines for Developing Proposed Methodology.