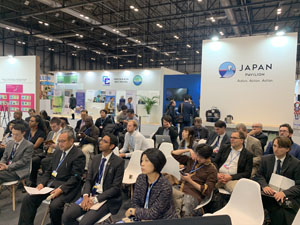 The Ministry of the Environment, Japan (MOEJ) and the Global Environment Centre Foundation (GEC) held the side event at the Japan Pavilion at COP25 held in Madrid, Spain with aim of introducing the supporting programme for CTCN and GCF Project Development by MOEJ and GEC.
 Climate Technology Centre and Network (CTCN) and the Green Climate Fund (GCF) are important driving forces under the Technology Mechanism and Financial Mechanism within the UNFCCC in accelerating diffusion of climate technologies in developing country Parties.
The Ministry of the Environment, Japan (MOEJ) has been supporting developing countries on capitalizing on these two mechanisms, by providing support on identification of challenges and solutions, project formulation, and by conducting a capacity-building workshop.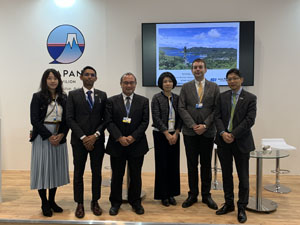 In this event with aim of accelerating the dissemination of low-carbon technologies to developing countries though CTCN/GCF, lessons learned and way forward for crystalizing CTCN/ GCF projects were discussed. The event is divided into two parts with CTCN and GCF, in each part, useful information for developing projects under these mechanisms was provided by CTCN or GCF, and the technology and the proposed CTCN or GCF project were introduced by private companies. In addition, methods and benefits of CTCN/GCF and the private sector collaboration, and the difficulty of the private sector approaching such international mechanisms, were mainly discussed during the panel discussions.
Date
05/12/2019 (Thursday)
Time
17:00 – 18:30 (90min)
Venue
Japan Pavilion Event Space
Organizer
Ministry of the Environment (MOEJ)
Global Environment Centre Foundation (GEC)
【Agenda of the Event】
 (MC: Mr. Satoru Tango, Senior Manager, GEC)
Opening Remark
 Mr. Hiroshi Tsujihara, Director for International Strategy on Climate Change, Global Environment Bureau, MOEJ
The support programme for GCF/CTCN project development by MOEJ/GEC
 Ms. Nao Nakajima, Assistant Manager, GEC
Part1:Sharing experiences on developing CTCN projects in South East Asia
CTCN's project development in Asia-Pacific
 Mr. Tomoo Machiba, Deputy Director, CTCN
Sharing experiences in CTCN project development ~Lao Green Gas Project~
 Mr. Vishwas Sangappa, Hitachi Zosen Corporation (Hitz)
Panel Discussion
 Mr. Tomoo Machiba (CTCN), Mr. Vishwas Sangappa (Hitz)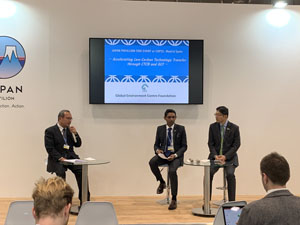 Part2:Sharing experiences on developing GCF projects
GCF Modalities and Lessons Learned from Implementation
 Mr. Vladislav Arnaoudov, Climate Change Monitoring and Evaluation Specialist, Office of Portfolio Management, GCF
Sharing experiences in GCF project development ~ Wind Energy for Islands ~
 Ms. Leiko Toyoda, Planning Manager, Renewable Energy & Overseas Business Department, KOMAI HALTEC Inc.
Panel Discussion
 Mr. Vladislav Arnaoudov (GCF), Ms. Leiko Toyoda (KOMAI HALTEC)