Efficiency Improvement of Combined Heat and Power Plant by Thermal Insulation
Representative Participant

Kanden Plant Co., Inc.
Outline of GHG Mitigation Activity
This project under consideration aims to improve plant efficiency by means of thermal insulation installation of "Overwrapping Insulation Method (ECO-AIM)" at coal fired thermal power plants in Mongolia.
 The installation method is just to roll the thermal insulation material, "Pyrogel XT", over the deteriorated existing thermal insulation materials on the existing facilities.
 This method also provides measures on the occupational safety and health such as avoiding asbestos scattering.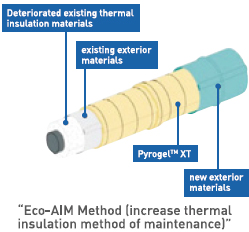 Expected GHG Emission Reductions
1,723 tCO2/year (CHP-3& CHP-4)
Reference CO2 emissions: 5,379tCO2/year
CHP3 High pressure unit:
Reference radiation heat quantity(647W/㎡)×Reference radiating surface area(2211㎡)×3600×Steam flow hours(4810hours/y)/ Boiler efficiency(1.0)×CO2 Emission factor of coal(0.101tCO2/GJ)×10-9
 CHP4:
Reference radiation heat quantity(383W/㎡)×Reference radiating surface area(3300㎡)×3600×Steam flow hours(6260hours/y)/ Boiler efficiency(1.0)×CO2 Emission factor of coal(0.101tCO2/GJ)×10-9
Project CO2 emissions: 1,915tCO2/year
 CHP3 High pressure unit:
Reference radiation heat quantity(383W/㎡)×{1-Thermal insulation efficiency (0.35)}×Project radiating surface area(3300㎡)×3600×Steam flow hours(6260hours/y)/ Boiler efficiency(1.0)×CO2 Emission factor of coal(0.101tCO2/GJ)×10-9
 CHP4:
Reference radiation heat quantity(647W/㎡)×{1-Thermal insulation efficiency (0.35)}×Project radiating surface area(3300㎡)×3600×Steam flow hours(4810hours/y)/ Boiler efficiency(1.0)×CO2 Emission factor of coal(0.101tCO2/GJ)×10-9
Site of JCM Project