Introduction of 3.1MW Rooftop Solar Power System to Food Processing Facilities
Representative Participant

AAIC Japan Co., Ltd.
Partner Participant: AAIC Holdings Pte. Ltd. / Unga Holdings Limited / Unga Limited, Unga Farm Care (E.A.) Limited
Not registered
Installing
Outline of GHG Mitigation Activity
3.1 MW solar power system is installed to reduce greenhouse gas (GHG) emissions by replacing a part of the electricity consumption at 4 grain milling facilities and 3 livestock feed production facilities in Nairobi, Eldoret, and Nakuru counties by the power supplied by the system. 
This project contributes to the achievement of Kenya's policy for transitioning to 100% clean energy by 2030.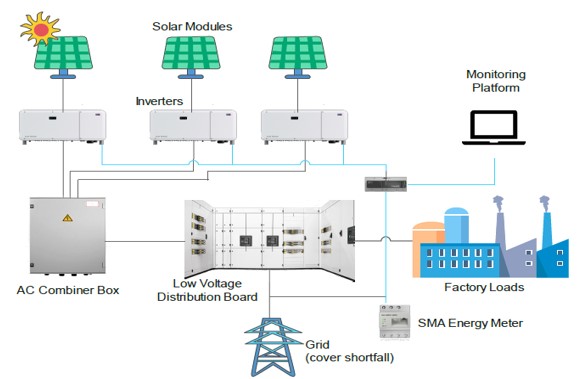 Expected GHG Emission Reductions
2,455 tCO2-eq./year
= (Reference CO₂ emissions)
– (Project CO₂ emissions)
・ Reference CO₂ emissions
= (Quantity of the electricity generated by the project) [MWh/year]
×Emission factor [tCO₂/MWh]
・ Project CO₂ emissions
= 0 [tCO₂/year])
Site of JCM Project