Introduction of 9MW Rooftop Solar Power System to Factories
Representative Participant

Sharp Energy Solutions Corporation
Partner Participant: I RENEWABLE ENERGY VIETNAM CO., LTD.
Not registered
Installing
Outline of GHG Mitigation Activity
The project participant installs, owns and operates the solar power system (total approx. 9MW) on factories and supplies the generated electricity to the factory owners. The factory owners can replace a portion of electricity consumption with electricity from renewable energy without self-investment and reduce greenhouse gas (GHG) emissions.
This project contributes to Vietnam's achievement of the total installed capacity for solar power systems.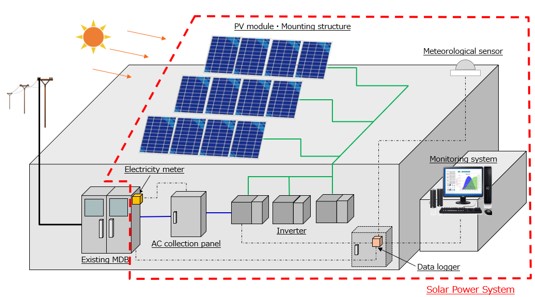 Expected GHG Emission Reductions
3,618 tCO2-eq./year
= (Reference CO₂ emissions)
– (Project CO₂ emissions)
・ Reference CO₂ emissions
= (Quantity of the electricity generated by the
    project) [MWh/year]
×Emission factor [tCO₂/MWh]
・ Project CO₂ emissions
= 0 [tCO₂/year])
Site of JCM Project