Introduction of 1.3MW Solar Power System to Food Factories (JCM Eco Lease Scheme)
Representative Participant

Tokyo Century Corporation
Partner Participant: PRIMAHAM FOODS (THAILAND) CO.,LTD, TISCO Tokyo Leasing Co., Ltd.
Not registered
Active
Outline of GHG Mitigation Activity
A Solar Power System is installed to the Japanese food factory by utilizing JCM Eco Lease Scheme. A total capacity of 1.3MW solar power system is installed on both rooftop of the factory and the carport beside the factory.
By combining financing programme and leasing, JCM Eco Lease Scheme reduces the initial cost and contributes to greenhouse gas (GHG) emissions reduction. This is the first JCM Eco Lease project in Thailand.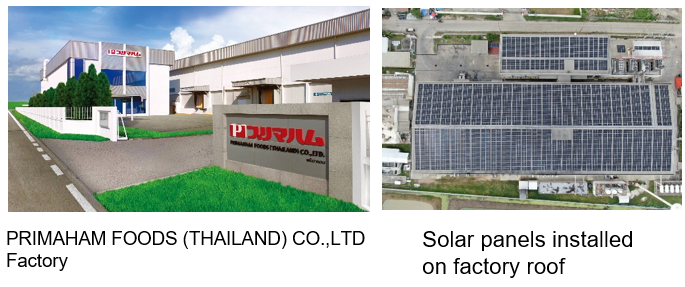 Expected GHG Emission Reductions
603 tCO2-eq./year
= (Reference CO2 emissions)
– (Project CO2 emissions)
・ Reference CO2 emissions
= (Quantity of the electricity generated by the project) [MWh/year]
×Emission factor [tCO2 /MWh]
・ Project CO2 emissions
= 0 [tCO2 /year])
Site of JCM Project