Introduction of 0.13MW Solar Power System to Auto Parts Factory (JCM Eco Lease Scheme)
Representative Participant

Tokyo Century Corporation
Partner Participant: NICHIAS (THAILAND) CO.Ltd.,TISCO Tokyo Leasing CO.,Ltd.
Not registered
Active
Outline of GHG Mitigation Activity
Installing 0.13MW solar power generation system on the roof of the factory for self-consumption by utilizing JCM Eco Lease Scheme. Around 60% of the factory's electricity consumption will be covered by solar power generation.
By combining financing programme and leasing, JCM Eco Lease Scheme reduces the initial cost and contributes to greenhouse gas (GHG) emissions reduction. This is the first JCM Eco Lease project in Thailand.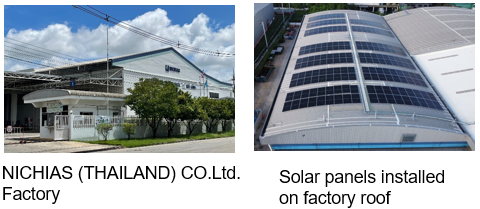 Expected GHG Emission Reductions
52 tCO2-eq./year
= (Reference CO₂ emissions)
– (Project CO₂ emissions)
・ Reference CO₂ emissions
= (Quantity of the electricity generated by
the project) [MWh/year]
・Project CO2 emissions
= 0 [tCO2 /year])
Site of JCM Project