Efficiency Improvement of Co-generation System by Installation of Heat Exchanger in Fiber Factory
Representative Participant

NIPPON STEEL ENGINEERING CO., LTD.
Partner Participant: NS-OG Energy Solutions (Thailand) Ltd.
Not registered
Active
Outline of GHG Mitigation Activity
This project aims to efficiently utilize unused thermal energy of the co-generation system to heat boiler feed water. A heat exchanger is additionally installed to the existing co-generation system which is composed of 7 MW gas turbine and heat recovery steam generator equipped with duct burner.
Natural gas fuel used for duct burner is reduced by approx. 4%, by increasing the temperature of boiler feed water by approx. 20 degrees Celsius.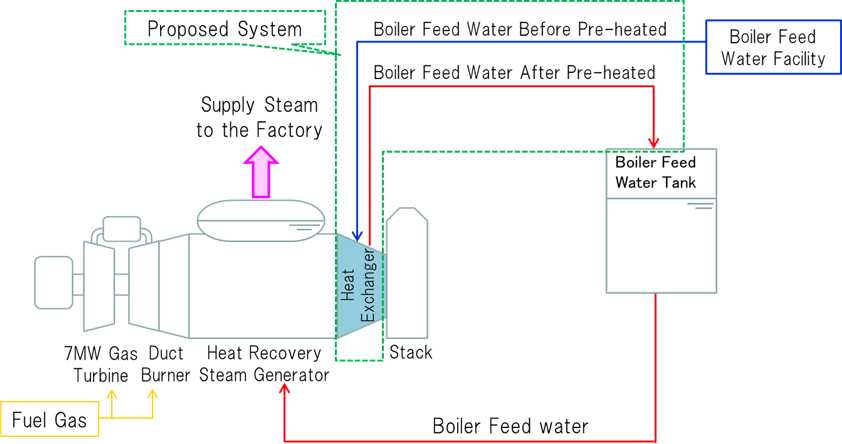 Expected GHG Emission Reductions
359 tCO2-eq./year
= (Reference CO2 Emission) − (Project CO2 Emission)
(Reference CO2 Emission)
= [(BFW temp. after heat recovery) − (BFW temp. before heat recovery)]
    × (BFW amount) × (Specific heat of water)
    ÷ (Boiler efficiency) × (CO2 emission coefficient of fuel)
BFW: Boiler Feed Water
(Project CO2 Emission) = 0
Site of JCM Project