Introduction of Gas Co-generation System and Absorption Chiller to Fiber Factory
Representative Participant

Kansai Electric Power Co., Inc.
Partner Participant: Kansai Energy Solutions (Thailand) Co., Ltd.
Not registered
Active
Outline of GHG Mitigation Activity
This project reduces CO2 emissions by introducing gas co-generation system (5 MW class x 2set) and absorption chiller (800 USRT class) to fiber factory.
These gas co-generation system and absorption chiller contribute to energy saving and cost reduction, and can improve reliability for power supply.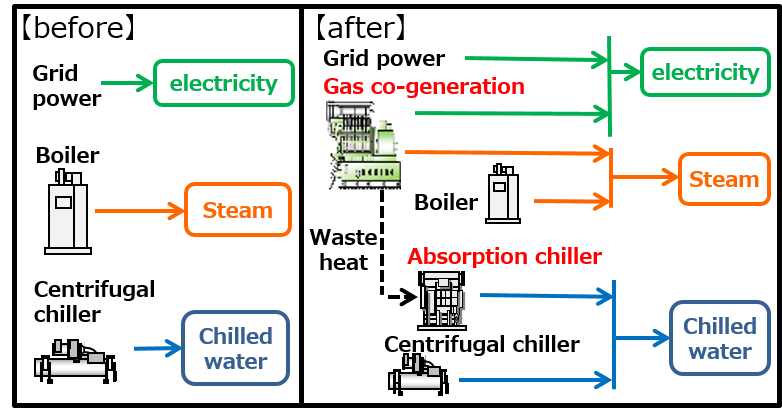 Expected GHG Emission Reductions
16,158 tCO2-eq./year
=①Reference emissions – ②Project emissions
①Reference emissions = (Project electricity supply × CO2 emission factor of the grid) + (Project heat supply ÷ efficiency of reference boiler × CO2 emission factor of natural gas) + (Project removed heat ÷ COP of reference centrifugal chiller × CO2 emission factor of the grid)
②Project emissions = Project fuel consumption × CO2 emission factor of natural gas