Introduction of 8.8MW Power Generation System by Waste Heat Recovery for Cement Plant
Representative Participant

Global Engineering Co., Ltd.
Partner Participant: Shwe Taung Cement Company Limited
Not registered
Active
Outline of GHG Mitigation Activity
Shwe Taung Cement installs a waste heat recovery power generation (WHRPG) system for their cement factory located in Mandalay, which produces 1,500 ton/day of clinker from the existing line and 4,000 ton/day from a new line. This project contributes to mitigating power shortage in Myanmar, and to the CO2 emission reduction by reducing the consumption of natural gas that is a major source of energy in the country.
This WHRPG system consists of an air quenching cooler (AQC) boiler and a latest preheater (PH) boiler which recovers waste heat and converts into power more efficiently.
All the electricity generated from the project is self-consumed at the factory.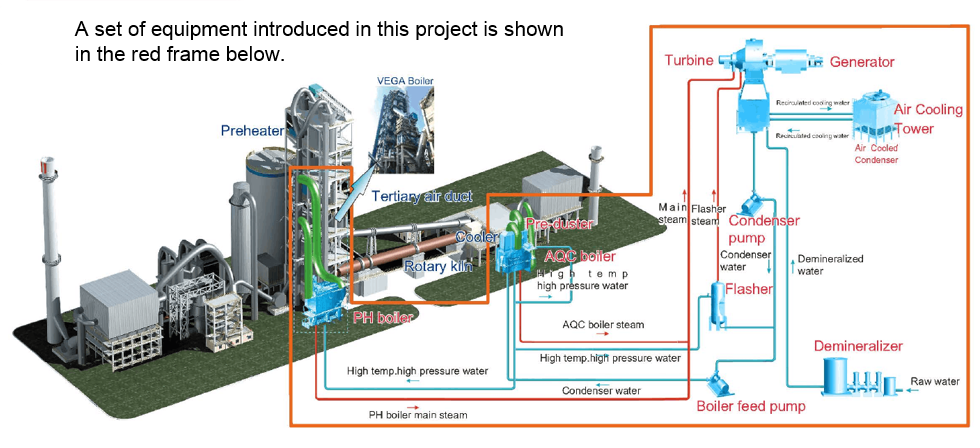 Expected GHG Emission Reductions
19,209 tCO2-eq./year
= Reference CO2 emission-Project CO2 emission
        = Net avoided electricity [MWh/y]  x Emission Factor [tCO2/MWh]
Project CO2 emission  = 0 tonCO2/y
JCM Methodology
| Methodology No. | Title | Methodology Proponent |
| --- | --- | --- |
| MM_AM005 ver1.0 | Power Generation by Waste Heat Recovery in Cement Industry | Institute for Global Environmental Strategies |