Introduction of 12MW Power Generation System by Waste Heat Recovery for Cement Plant
Representative Participant

NTT DATA INSTITUTE OF MANAGEMENT CONSULTING, Inc. 
Partner Participant: Siam City Power Company Limited
Registered
Active
Outline of GHG Mitigation Activity
This project is planned to introduce a waste heat recovery (WHR) boiler steam turbine generator system to produce power at cement production plant located in Saraburi Province, Thailand. The generated electricity is used in the cement plant.
WHR system contributes to the reduction of GHG emission to substitute the electricity from the power grid.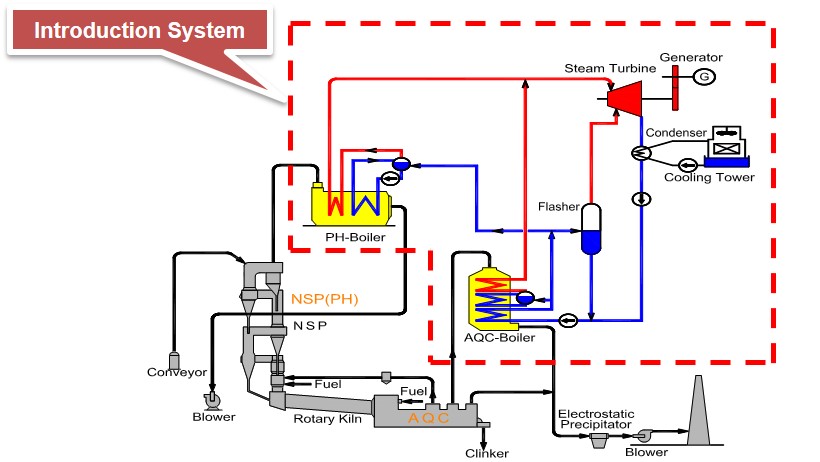 Expected GHG Emission Reductions
29,746 tCO2-eq./year
= (Reference CO2 Emission) – (Project CO2 Emission)
= ((Reference Power Consumption) – (Project Power Consumption)) [MWh/year] x (Emission Factor) [tCO2/MWh]
= ( 52,518.9 – 0 ) [MWh/year] x 0.5664 [tCO2/MWh]
JCM Methodology
| Methodology No. | Title | Methodology Proponent |
| --- | --- | --- |
| TH_AM007 Ver1.0 | Power Generation by Waste Heat Recovery in Cement Industry | NTT DATA INSTITUTE OF MANAGEMENT CONSULTING, Inc. |
Progress
JCM Project Registration
| Reference No. | Project Title | Registration Date |
| --- | --- | --- |
| TH006 | Power Generation by Waste Heat Recovery in Cement Industry | 2-Aug-19 |