Installation of High Efficiency Air Conditioning System and Chillers in Semiconductor Factory
Representative Participant

Sony Semiconductor Manufacturing Corporation
Partner Participant: Sony Device Technology (Thailand) Co., Ltd.
Registered
Credit issued
Active
Outline of GHG Mitigation Activity
This project introduces high efficiency Centrifugal Chiller and Swirling Induction type air-conditioning system in the newly constructed clean room  (6,250m2), which is a part of refurbishment of LSI and image sensor manufacturing plant affected by floods crisis in 2011.
The air-conditioning system does not mix the air in the room, and cools the air only in the lower layer in the room. Air temperature blown from the fan unit can be closer to the room temperature, which reduces refrigeration load of a chiller. Air flow can also be less than standard system, reducing power consumption. In addition, the chiller is equipped with inverter which contributes to the energy-saving.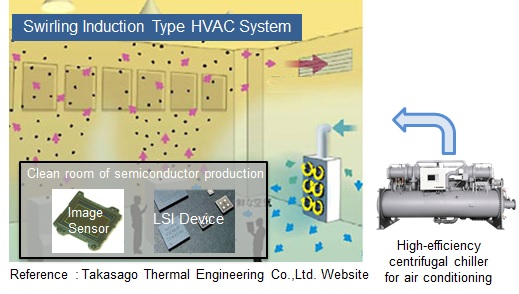 Expected GHG Emission Reductions
3,744 tCO2-eq./year
= (Reference CO2 emissions) [tCO2/year]
    − (Project CO2 emissions) [tCO2/year]
Chiller: 314 [tCO2/year]
Reference CO2 emissions: 4,202 [tCO2/year]
Project CO2 emissions: 3,887.7 [tCO2/year]
Air-conditioning Device: 3,430 [tCO2/year]
Reference CO2 emissions: 3,870.6 [tCO2/year]
Project CO2 emissions: 440.4 [tCO2/year]
JCM Methodology
| Methodology No. | Title | Methodology Proponent |
| --- | --- | --- |
| TH_AM003 Ver1.0 | Energy Saving by Introduction of High Efficiency Inverter Type Centrifugal Chiller | Sony Corporate Services (Japan) Corporation |
| TH_AM006 Ver1.0 | Installation of Displacement Ventilation Air Conditioning Unit in the Cleanroom of Semiconductor Manufacturing Factory | Sony Semiconductor Manufacturing Corporation |
Progress
JCM Project Registration
| Reference No. | Project Title | Registration Date |
| --- | --- | --- |
| TH003 | Installation of High Efficiency Air Conditioning System and Chillers in Semiconductor Factory | 20-Apr-18 |
Issuance of credits
| | Reference No. | Monitoring Period | Date of JC decision on notification | Amounts of Credits Issued |
| --- | --- | --- | --- | --- |
| - | TH003 | 01 Apr 17 - 31 Dec 17 | 2 Aug 19 | 2404 |