Introduction of Solar PV System on Factory Rooftop
Representative Participant

Pacific Consultants Co., Ltd.
Partner Participant: InterAct Inc., Siam Steel International Public Company Limited
Registered
Credit issued
Active
Outline of GHG Mitigation Activity
The project aims to reduce CO2 emissions by introducing solar photovoltaic (PV) systems at a factory complex manufacturing steel products and furniture in Samutprakarn, Thailand.
A grid-connected solar PV system will be installed on rooftops of the A-14 Factory Building (Site A: 837kW) and Head Office (Site B: 157kW). The total installed capacity will be 994kW.
All of the generated power will be consumed within the factory complex. The project will be a model case utilizing factory roof space and high-efficiency PV modules for self-consumption.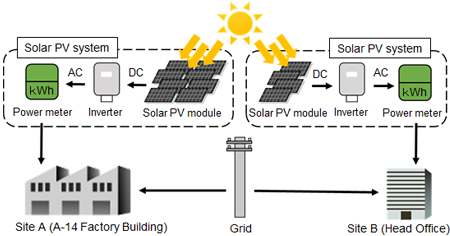 Expected GHG Emission Reductions
491 tCO2-eq./year
= PV generation (a) × Reference emission factor (b)
= 1,540.98 [MWh/year] × 0.319 [tCO2/MWh]
JCM Methodology
| Methodology No. | Title | Methodology Proponent |
| --- | --- | --- |
| TH_AM001 Ver1.0 | Installation of Solar PV System | Institute for Global Environmental Strategies (IGES) |
Progress
JCM Project Registration
| Reference No. | Project Title | Registration Date |
| --- | --- | --- |
| TH001 | Introduction of Solar PV Systems on Rooftops of Factory and Office Building | 21-Aug-17 |
Issuance of credits
| | Reference No. | Monitoring Period | Date of JC decision on notification | Amounts of Credits Issued |
| --- | --- | --- | --- | --- |
| - | TH001 | 20 Jun 16 - 01 Oct 17 | 20 Apr 18 | 300 |