Reducing GHG emission at Textile Factory by Upgrading to Air-saving Loom (Samutprakarn)
Representative Participant

Toray Industries, Inc.
Partner Participant: Toray International, Inc., Luckytex(Thailand) Public Company Limited
Registered
Credit issued
Active
Outline of GHG Mitigation Activity
Energy consumption in Thailand hascontinuously increased with the economic growth. The economic sector with priority for undertaking energy conservation is the industrial sector.
The proposed project aims to reduce electricity consumption and GHG emission by upgrading to air-saving looms at textile factory in Thailand.
The latest air-saving loom is Toyota JAT810. This "JAT810" has original air-saving technology to reduce air consumption for weft insertion more 20% than the conventional model.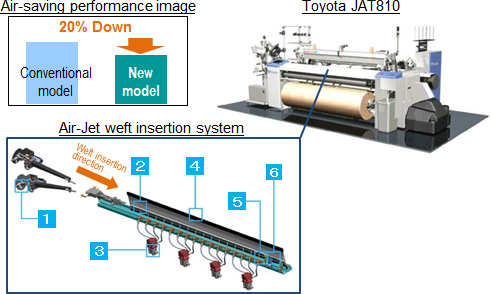 Expected GHG Emission Reductions
390 tCO2-eq./year
= (Reference CO2 emissions) [tCO2/year]
    − (Project CO2 emissions) [tCO2/year]
Reference CO2 emissions: 1,550.2 [tCO2/year]
Project CO2 emissions: 1,159.5 [tCO2/year]
JCM Methodology
| Methodology No. | Title | Methodology Proponent |
| --- | --- | --- |
| TH_AM004 Ver1.0 | Installation of energy saving air jet loom at textile factory | Toray Industries Inc. |
Progress
JCM Project Registration
| Reference No. | Project Title | Registration Date |
| --- | --- | --- |
| TH002 | Reducing GHG emission at Textile Factory of Luckytex (Thailand) Public Company Limited by Upgrading to Air-saving Loom | 20-Apr-18 |
Issuance of credits
| | Reference No. | Monitoring Period | Date of JC decision on notification | Amounts of Credits Issued |
| --- | --- | --- | --- | --- |
| - | TH002 | 29 Jan 16 - 31 Oct 18 | 28 Sep 20 | 504 |