Energy Efficient Refrigerants to Cold Chain Industry
Representative Participant

Mayekawa Manufacturing Co., Ltd.
Partner Participant: PT. Adib Global Food Supplies, PT. Mayekawa Indonesia
Registered
Credit issued
Active
Outline of GHG Mitigation Activity
The advanced energy efficient cooling system using natural refrigerant (NH3 and CO2) is introduced into the food industry and logistics industry in Indonesia, where energy consumption is very high, demonstrating its high energy saving impact as well as a large amount of GHG emission reductions.
A screw compressor and an 1PM (interior permanent magnet synchronous) motor are adopted and operated integrally, to achieve highly efficient operation of the cooling facility.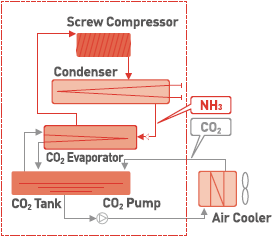 Expected GHG Emission Reductions
165 tCO2-eq./year
= (Reference CO2 emissions) [tCO2/year]
   − (Project CO2 emissions) [tCO2/year]
Reference CO2 emissions: 766 [tCO2/year]
Project CO2 emissions: 601 [tCO2/year]
JCM Methodology
| Methodology No. | Title | Methodology Proponent |
| --- | --- | --- |
| ID_AM003 Ver1.0 | Installation of Energy-efficient Refrigerators Using Natural Refrigerant at Food Industry Cold Storage and Frozen Food Processing Plant | EX Research Institute Limited |
Progress
JCM Project Registration
| Reference No. | Project Title | Registration Date |
| --- | --- | --- |
| ID002 | Project of Introducing High Efficiency Refrigerator to a Food Industry Cold Storage in Indonesia | 29 Mar 2015 |
| ID003 | Project of Introducing High Efficiency Refrigerator to a Frozen Food Processing Plant in Indonesia | 29 Mar 2015 |
Issuance of credits
| | Reference No. | Monitoring Period | Date of JC decision on notification | Amounts of Credits Issued |
| --- | --- | --- | --- | --- |
| - | ID002 | 02 Feb 2015 - 31 Jul 2015 | 12 May 2016 | 29 |
| - | ID003 | 02 Feb 2015 - 31 Jul 2015 | 12 May 2016 | 11 |