Installation of Inverter-type Air Conditioning System, LED Lighting and Separate Type Fridge Freezer Showcase to Grocery Stores in Republic of Indonesia
Representative Participant

Lawson, Inc.
Partner Participant: PT. Midi Utama Indonesia Tbk
Registered
Credit issued
Active
Outline of GHG Mitigation Activity
Total electricity consumption of food retail convenience stores is decreased by the installation of the latest high-efficiency facilities and high-efficiency chillers with natural refrigerant (CO2 refrigerant), inverter-controlled air-conditioners, and LED lighting. As a result, CO2 emissions due to electricity consumption are reduced.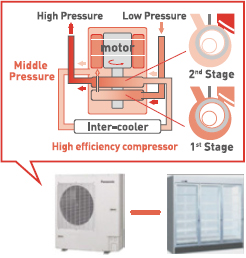 Expected GHG Emission Reductions
141 tCO2-eq./year
JCM Methodology
| Methodology No. | Title | Methodology Proponent |
| --- | --- | --- |
| ID_AM004 Ver2.0 | Installation of Inverter-Type Air Conditioning System for Cooling for Grocery Store | myclimate Japan Co., Ltd. |
| ID_AM005 Ver2.0 | Installation of LED Lighting for Grocery Store | myclimate Japan Co., Ltd. |
| ID_AM008 Ver2.0 | Installation of a separate type fridge-freezer showcase by using natural refrigerant for grocery store to reduce air conditioning load inside the store | myclimate Japan Co., Ltd. |
Progress
JCM Project Registration
| Reference No. | Project Title | Registration Date |
| --- | --- | --- |
| ID006 | Installation of Inverter-type Air Conditioning System, LED Lighting and Separate Type Fridge Freezer Showcase to Grocery Stores in Republic of Indonesia | 03 Jun 16 |
Issuance of credits
| | Reference No. | Monitoring Period | Date of JC decision on notification | Amounts of Credits Issued |
| --- | --- | --- | --- | --- |
| - | ID006 | 01 Mar 14 - 31 May 16 | 10 Jul 18 | 195 |
Related Documents
・Seminar on the JCM Project Implementation in Indonesia (2017)
 Energy Savings at Convenience Stores – Mr. Masaaki Kanbe, Lawson, Inc. & Mr. Satoshi Mitani, Panasonic Corporation