Hybrid Power Generation Project Using Biogas and Solar Power
Representative Participant

Next Energy & Resources Co., Ltd.
Outline of GHG Mitigation Activity
To generate electricity, by using Biogas collected from POME (Palm Oil Mill Effluent) through anaerobic digestion system and to supply such electricity to the GRID under FIT (Size of Generation: 2MW).
By installing 100kW Solar PV System for self consumption, maximizing the power supply to the grid.
The project aims to contribute to the reduction of GHG emission by reducing methane gas emission from POME and CO2 emissions from fossil fuel based grid connected power plants.
Furthermore, contributing to the improvement of areal environment by reducing pollution caused by rancid smell from POME.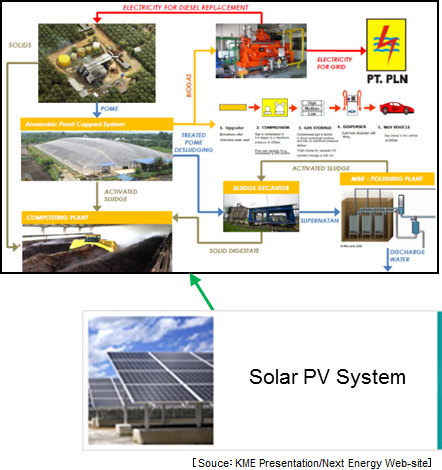 Expected GHG Emission Reductions
61,197 tCO2/year
Reference CO2 emissions: 66,226 tCO2/year
Emissions from methane gas emitted from POME: 56,562tCO2/year Emissions from grid electricity displaced by biogas power generation: 9,664 tCO2/year
Project CO2 emissions: 5,029 tCO2/year
Methane missions from POME treatment lagoons without biogas recovery system:
Site of JCM Project