Introduction of High Efficiency Boiler System to Food Factory
Representative Participant

Acecook Co., Ltd.
Partner Participant: Acecook Vietnam Joint Stock Company, Sojitz Osaka Gas Eenrgy Co., Ltd.
Not registered
Active
Outline of GHG Mitigation Activity
This project replaces existing coal boilers at the Binh Duong plant and Hung Yen plant operated by Acecook Co., Ltd. with high-efficiency once-through boilers and also converts fuel from coal to CNG and LPG. The boiler system flexibly responds to fuel market trends and reduces greenhouse gas (GHG) emissions.
This project reduces energy consumption by the boiler operations and contributes to greenhouse gas (GHG) emissions reductions in Vietnamese industry sector.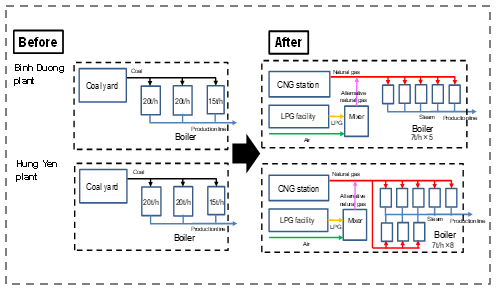 Expected GHG Emission Reductions
7,631 tCO2-eq./year
= (Reference CO2 emission)
       − (Project CO2 emission)
Reference Emission
 = Fuel consumption of reference boiler [ton/y]
   x CO2 emission factor of fossil fuel [tCO2/ton]
Project Emission
 = Fuel consumption of project boiler [ton/y]
   x CO2 emission factor of fossil fuel [tCO2/ton]
Site of JCM Project