30MW Floating Solar Power Project in Industrial Park
Representative Participant

Shizen Energy Inc.
Partner Participant: Constant Energy Singapore Holding Pte. Ltd.、Solar Floating CE 6 Co., Ltd.
Not registered
Installing
Outline of GHG Mitigation Activity
30 MW solar power system is installed in an Industrial Park. The generated electricity is sold to the National Power Supply (NPS), a power company that supplies electricity to the Industrial Park, reducing greenhouse gas (GHG) emissions.
This project contributes to the achievement of National Power Development Plan 2018 (PDP 2018) for a renewable energy ratio target of approx. 20% in 2037.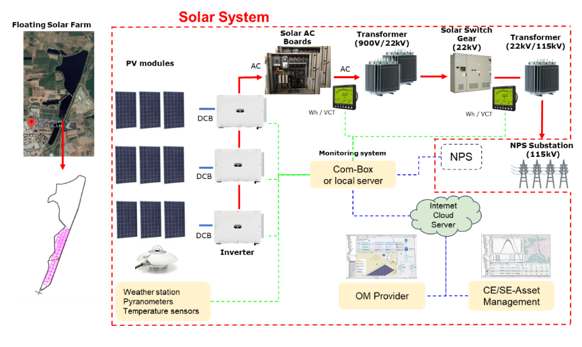 Expected GHG Emission Reductions
13,739 tCO2/year
= reference CO2 emissions
 - project CO2 emissions
 ・Reference CO2 emissions
  = Quantity of the electricity generated by the project [MWh/year]
   x Emission factor [tCO2/MWh]
 ・Project CO2 emissions
  = 0 [tCO2/year]
Site of JCM Project