Introduction of 5MW Rooftop Solar Power System to Aluminum Building Materials Factory
Representative Participant

Sumitomo Mitsui Finance and Leasing Company, Limited
Partner Participant: TOSTEM THAI CO., LTD., SMFL Leasing (Thailand) Co., Ltd.
Not registered
Active
Outline of GHG Mitigation Activity
This project installs 5MW solar power system on the rooftop of an aluminum building materials factory in Nava Nakorn Industrial Estate near Bangkok by lease financing.
All electricity generated from the project is consumed in-house. By replacing the grid electricity with renewable energy, the greenhouse gas (GHG) emissions are reduced.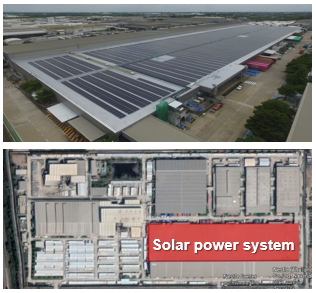 Expected GHG Emission Reductions
2,200 tCO2-eq./year
= reference CO2 emissions
 - project CO2 emissions
 ・Reference CO2 emissions
  = Quantity of the electricity generated by the project [MWh/year]
   x Emission factor [tCO2/MWh]
 ・Project CO2 emissions
  = 0 [tCO2/year]
Site of JCM Project