3MW Solar Power Project Utilizing Farmland in Valparaiso Region
Representative Participant

FARMLAND Co., Ltd.
Partner Participant: Farmdo Co., Ltd, Farmdo Energy Chile SpA, Land and Sea SpA
Not registered
Installing
Outline of GHG Mitigation Activity
①Aiming to reduce greenhouse gas (GHG) emissions and supply clean energy, a 3MW of photovoltaic power generation facility is introduced in Valparaiso Region.
②Together with Chilean Ministry of Agriculture and Irrigation, a 20kW facility introduced in Maule Region. By promoting this agrivoltaic pilot project to local farmers, the project contributes additional emission reduction of GHG.
This project contributes to the achievement of Chile's policy for a renewable energy ratio target of 70% in 2050.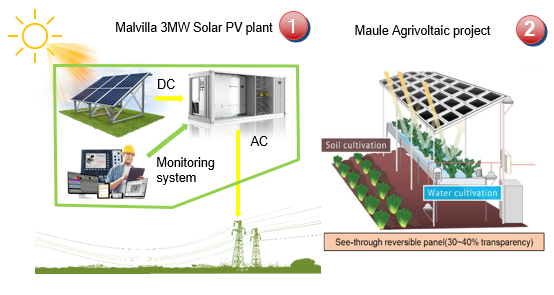 Expected GHG Emission Reductions
2,632 tCO2/year
= reference CO2 emissions
 - project CO2 emissions
 ・Reference CO2 emissions
  = Quantity of the electricity generated by the project [MWh/year]
   x Emission factor [tCO2/MWh]
 ・Project CO2 emissions
  = 0 [tCO2/year]
Site of JCM Project