Installation of 8.3MW Solar Power Plant in Ulaanbaatar suburb Farm
Project Owner

Farmdo Co., Ltd.
Partner Participant: Everyday Farm LLC, Bridge LLC
Registered
Credit issued
Active
Outline of GHG Mitigation Activity
The purpose of this project is to reduce CO2 emission, mitigate air pollution and stabilize power supply in Mongolia by installing 8.3MW scale solar power plants in the suburbs of Ulaanbaatar. This power plants can replace some part of power generation by coal-fired thermal power. Moreover, lots of achievements in daily life, mitigating air pollution, resolving power shortage, food supplying, etc., can be expected by synergy of agricultural and solar power generation technology.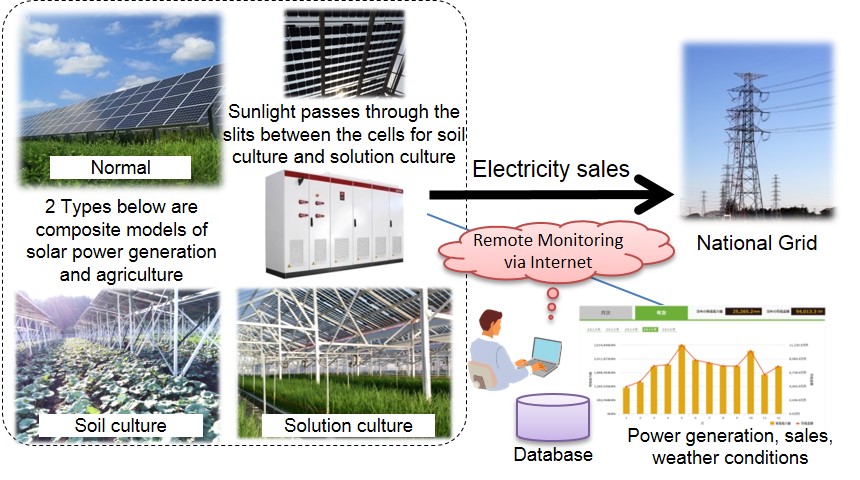 Expected GHG Emission Reductions
9,585 tCO2-eq./year
=Project Electricity Generation(EG)
   x Emission Factor (EF)
=Power Generation Capacity[kW]
   x Annual Operating Rate[%]
   x 24hours x 365days x EF
JCM Methodology
| Methodology No. | Title | Methodology Proponent |
| --- | --- | --- |
| MN_AM003 Ver2.0 | Installation of Solar PV System | Institute for Global Environmental Strategies |
Progress
JCM Project Registration
| Reference No. | Project Title | Registration Date |
| --- | --- | --- |
| MN003 | Installation of 12.7MW Solar Power Plant for Power Supply In Ulaanbaatar Suburb | 26 May 2017 |
Issuance of credits
| | Reference No. | Monitoring Period | Date of JC decision on notification | Amounts of Credits Issued |
| --- | --- | --- | --- | --- |
| - | MN003 | 26 Aug 17 - 31 May 18 | 6 Nov 18 | 6362 |
| - | MN003 | 01 Jun 18 - 31 Dec 20 | 08 Feb 22 | 28268 |