Introduction of Energy-Efficient Air Conditioners in a Lens Factory
Representative Participant

RICOH COMPANY, LTD.
Partner Participant: RICOH IMAGING PRODUCTS (Vietnam) CO., LTD.
JCM Project Cycle:Registered
Status:Active
Outline of GHG Mitigation Activity
This project aims to reduce energy consumption of the existing factory which manufactures lens for single-lens reflex camera in the east of Hanoi city, by replacing current air conditioners to more energy-efficient ones. Training for the labours in the factory is planned so as to achieve proper operation and monitoring of the emission.
Such introduction of the technology could also result in improvement of working environment for the labours, and in turn improvement of quality of the products as well as reduction of maintenance costs.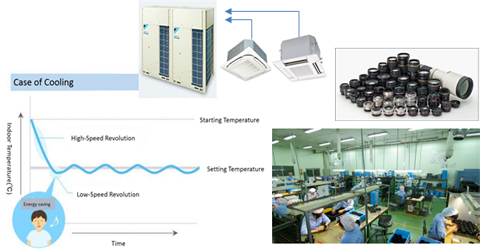 Expected GHG Emission Reductions
139 tCO2/ year
The amount of energy use reduced by the introduction of the proposed air conditioners would be multiplied by the latest figure of the emission factor in Vietnam (0.429, from International Energy Agency).
Site of JCM Project