School Building Rooftop Solar Power Plant Project
Representative Participant

Pacific Consultants Co., Ltd.
Partner Participant: Villa Educational Services Private Limited
JCM Project Cycle:Registered
Status:Active
Outline of GHG Mitigation Activity
A 185kW grid-connected photovoltaic (PV) system is installed on the rooftops of school buildings. Uses high quality PV modules of a Japanese manufacturer and general-purpose inverters with easy maintenance suitable for small-scale applications. The power generated is normally consumed in-house. When there is surplus power, it is supplied to the grid.   Introduction of the PV system will contribute to the carbon neutral target of the Government of Maldives by off-setting the grid power from diesel.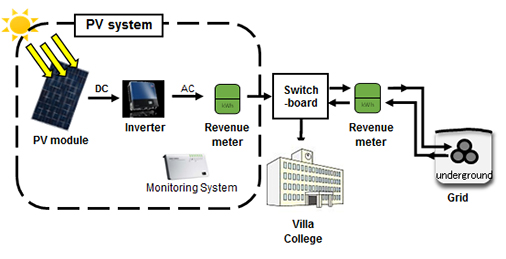 Expected GHG Emission Reductions
216 tCO2/year
CO2 emission reduction
= PV generation (a) × Grid emission factor (b)
= 270.1 MWh/year × 0.8 tCO2/MWh
(a) Project's electricity generation : 270.1MWh/year
(b) Grid emission factor: 0.8tCO2/MWh
The estimation assumes that all electricity generated by the project replaces grid electricity.
Site of JCM Project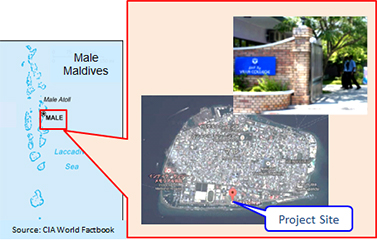 JCM Methodology
| | | |
| --- | --- | --- |
| Methodology No. | Title | Methodology Proponent |
| MV_AM001 | Displacement of Grid and Captive Genset Electricity by Solar PV System | Pacific Consultants Co., Ltd. |