Reducing GHG Emission at Textile Factories By Upgrading to Air-saving Loom
Representative Participant

Toray Industries, Inc.
Partner Participant: P.T. Indonesia Synthetic Textile Milles (ISTEM), P.T. Easterntex, P.T. Century Textile Industry Tbk (CENTEX), P.T. Toray Industries Indonesia (TIN)
Registered
Credit issued
Active
Outline of GHG Mitigation Activity
Exporting textiles products from Indonesia is the highest amount in South-eastern Asia. In the project, at 3 sites of textile factory in Indonesia we will upgrade existing weaving looms to total 81 units of the latest air-saving loom(*).
* "Toyota JAT810"
This "JAT810" has original air-saving technology to reduce air consumption for weft insertion more 20% than the conventional model. The effect is not only reducing CO2 emission by saving the power consumption of air-compressors but also reducing the running cost.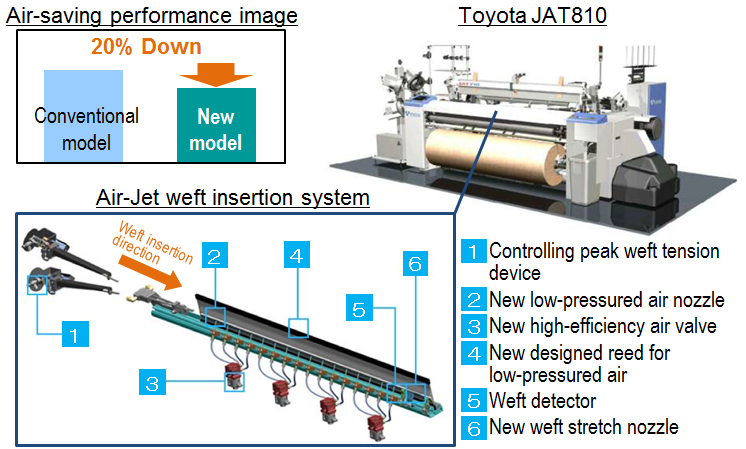 Expected GHG Emission Reductions
742 tCO2-eq./year
= (Reference CO2 emissions) [tCO2/year]
    − (Project CO2 emissions) [tCO2/year]
Reference CO2 emissions: 3,058.5 [tCO2/year]
Project CO2 emissions: 2,316.2 [tCO2/year]
JCM Methodology
| Methodology No. | Title | Methodology Proponent |
| --- | --- | --- |
| ID_AM011 Ver1.0 | Installation of energy saving air jet loom at textile factory | Toray Industries Inc. |
Progress
JCM Project Registration
| Reference No. | Project Title | Registration Date |
| --- | --- | --- |
| ID015 | Reducing GHG emission at textile factories by upgrading to air-saving loom | 24 Aug 18 |
Issuance of credits
| | Reference No. | Monitoring Period | Date of Issuance | Amounts of Credits Issued |
| --- | --- | --- | --- | --- |
| - | ID015 | 01 Jan 17 - 30 Sep 18 | 16 Jan 20 | 1,244 |