Website launch: A new online match-making platform for low-/zero-carbon technology projects in developing countries
Tokyo – The Global Environment Centre Foundation (GEC) launched today a new online match-making platform that will promote accelerated diffusion of advanced low- and zero-carbon technologies in the 17 Joint Crediting Mechanism (JCM) partner countries. The platform, named the JCM Global Match, is the first of its kind to automatically match all registered companies with each other according to their role and interests in their future JCM projects.
*17 partner countries (as of February 2017): Mongolia, Bangladesh, Ethiopia, Kenya, Maldives, Viet Nam, Laos, Indonesia, Costa Rica, Palau, Cambodia, Mexico, Saudi Arabia, Chile, Myanmar, Thailand, and the Philippines
1.Background
Since each JCM* project is undertaken by a partnership of a Japanese company which provides low- and zero-carbon technologies and a JCM partner country company which wishes to implement such technologies, it is essential that these companies have means to find the right project partner who shares their views and interests. The JCM Global Match will be an ideal place for this, as it allows users to seek out project partners and start a conversation instantly, regardless of time or location.
2.Services and characteristics
"Sellers" and "buyers" of low- and zero-carbon technologies can find companies that meet their interests instantly, preselected automatically by the platform according to their preferences that they select at the time of registration. This is the first time ever that such feature is provided for those interested in undertaking a JCM project.
Users can make appointments to meet with potential project partners at JCM seminars. By giving users an opportunity to start their conversation before the seminar takes place, the platform allows them to use the in-person time at the seminar to discuss matters most relevant to perfecting their project proposal.
Financial institutions and consulting firms can also sign up for an account, making the match-making platform a place where conversations on various aspects of JCM projects will emerge.
This platform will become available to JCM partner countries in series.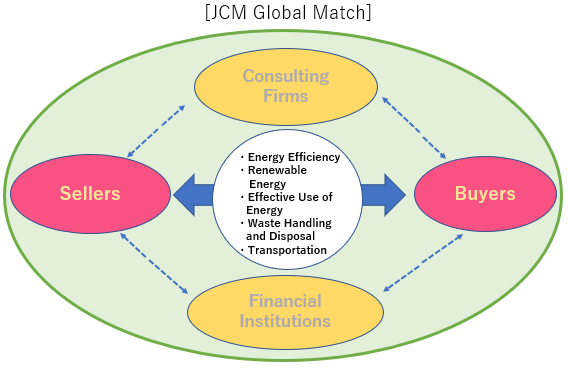 3.Overview
Release Date
July 19 2019
Registration and Usage Fee
Free
URL
https://gec.force.com/JCMGlobalMatch/
Operating and Supporting Organizations
Support:Ministry of the Environment, Japan; Institute for Global Environmental Strategies (IGES); Overseas Environmental Cooperation Center (OECC)
Operation:Global Environment Centre Foundation (GEC)
Attn: Nanako Aoyama (Ms.), Hiroaki Nigo (Mr.)
TEL: +81-3-6801-8773  Email: jcm-gm@gec.jp
 ※  JCM stands for the Joint Crediting Mechanism, and it is a bilateral cooperation mechanism that developing countries and Japan collaborate
    on GHG emission reductions projects and share the reduction result.
    For further information, please refer to the official website of JCM here