Rice husk power generation in rice mill factory in Ayeyarwady
Representative Participant

Fujita Corporation
Outline of GHG Mitigation Activity
Planning study of the rice husk based power generation project (approximately 1.6 MW) in the rice mill factory in Ayeyarwady, the major rice-production area of Myanmar.
 Contribution to solving issues of unutilized rice husk in rice mills and stable power supply in Ayeyarwady.
 Toward of establishment of the business model and further business development of rice husk power generation in Ayeyarwady and surrounding regions.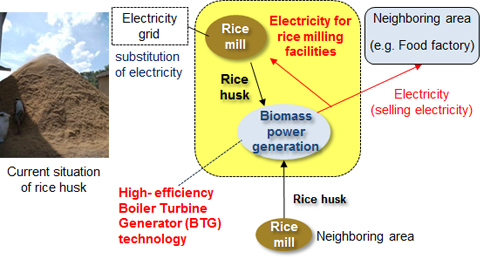 Expected GHG Emission Reductions
2,534 tCO2/year
Reference CO2 emissions: 2,534 tCO2/year•Total supply of electricity from the plant = 1,1520 MWh/y
 Assumptions: 1.6 MW(net), 330 operation days
•Grid CO2 emission factor = 0.22 t CO2 MWh (estimate) Estimate based on fuel consumption of electricity generation in Myanmar (2009-2012)
Site of JCM Project