6MW Solar Power Project Utilizing Farmland in Maule and Nuble Region
Representative Participant

FARMLAND Co., Ltd.
Partner Participant: Farmdo Energy Chile SpA., Land and Sea SpA
Not registered
Installing
Outline of GHG Mitigation Activity
This project aims to reduce greenhouse gas (GHG) emissions by replacing power from the grid for that from a 6MW (3MWx2) photovoltaic power generation facility (with single axis trackers) on farmlands in Maule and Nuble Region.
It contributes to the achievement of Chile's policy of 100% decarbonization in 2050 by participating in Pequenos Medios de Generacion Distribuida (PMGD) program established by the Chilean government and selling electricity to a power distribution company.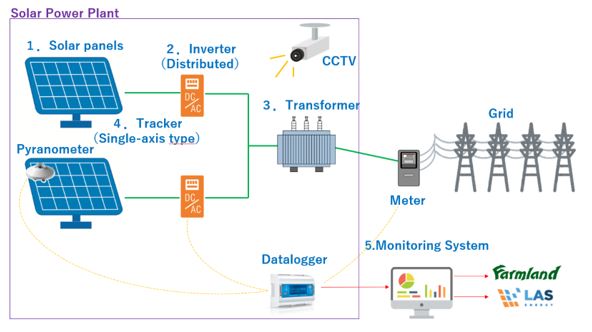 Expected GHG Emission Reductions
4,400 tCO2-eq./year
= (Reference CO₂ emissions)
 - (Project CO₂ emissions)
・ Reference CO₂ emissions = (Quantity of the electricity generated by the project) [MWh/year]
  ×Emission factor [tCO₂/MWh]
・ Project CO₂ emissions = 0 [tCO₂/year]
Site of JCM Project