Tanawon 20MW Flash Geothermal Power Plant Project
Representative Participant

Mizuho-Toshiba Leasing Company Ltd.
Partner Participant: Bac-Man Geothermal Inc.
Not registered
Installing
Outline of GHG Mitigation Activity
This project introduces a new 20 MW Flash Geothermal power plant system and new facilities for connection to the grid at Tanawon area of southern part of the Luzon island.
This Flash Geothermal power plant is small and easy to install, making it suitable for relatively small-scale geothermal power generation projects.
This project replaces the grid power produced by fossil fuel with renewable energy and reduces greenhouse gas (GHG) emissions.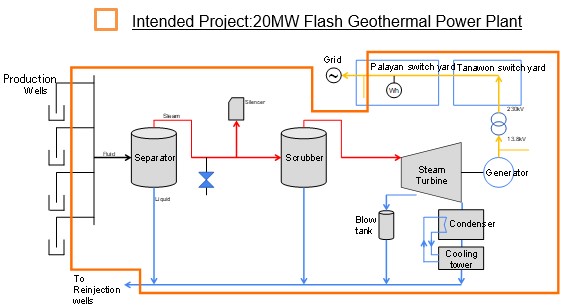 Expected GHG Emission Reductions
38,312 tCO2-eq./year
= (Reference CO2 emissions)
   -(ProjectCO2 emissions)
・ Reference CO2 emissions
  = Quantity of the electricity transmission by the project [MWh/year]
× Emission factor [tCO2/MWh]
・ ProjectCO2 emissions
  = Quantity of GHG(CO2,CH4) in Non Condensable Gas of Steam from the well.
Site of JCM Project