Development of Fluorocarbons collection scheme and installation of mixed combustion destruction facility in Vietnam
Representative Participant

Marubeni Corporation
Partner Participant: HUE URBAN ENVIRONMENT AND PUBLIC WORKS JOINT STOCK COMPANY(HEPCO)
Outline of GHG Mitigation Activity
In Vietnam, while regulations regarding the collection and destruction of fluorocarbons are still under development, almost all of used refrigerants in refrigeration and air-conditioning equipment are still released into the atmosphere.
In this model project, demonstration for collection and destruction of F-gas in Hue, aiming to generate and acquire JCM credits will be implemented. Also, the project includes a sustainable scheme development for MONRE and capacity building by Japanese experts.
Mixed combustion destruction facility will be installed with the incinerator of an industrial waste disposer, HEPCO.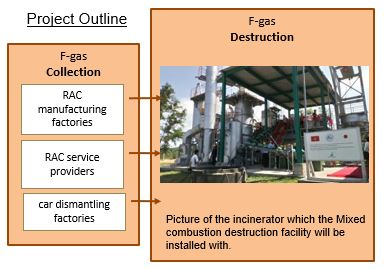 Expected GHG Emission Reductions
8,310 tCO2-eq./year
Reference scenario
 →GHG discharge from F-gas emitters such as refrigeration and air-conditioning (RAC) manufacturing factories, RAC service providers, and car dismantling factories will be continued.
Project scenario
 →By collecting F-gas from the emitters above and destroying with mixed combustion system, F-gas discharge to the atmosphere will be prevented.
Site of JCM Project