Rehabilitation Project of Power Generation System at Karai 7 Mini Hydro Power Plant
Representative Participant

Voith Fuji Hydro K.K.
Partner Participant: PT Global Karai Energi
Not registered
Active
Outline of GHG Mitigation Activity
This project is to conduct a rehabilitation for Karai 7 Hydro Power Project (2 x 3.54MW) located in the north Sumatra, Indonesia.
By introducing the latest turbine technology of Voith Hydro including High Velocity Oxygen Fuel (HVOF) coating to increase wear resistance and replacement of generator, the maximum output and annual power generation are expected to increased by 8.8% and 5.7% respectively.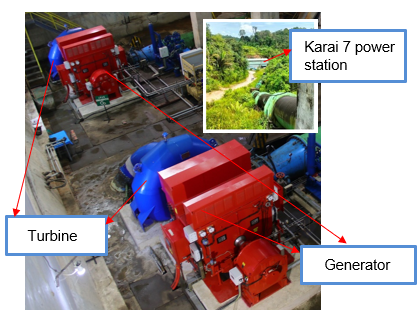 Expected GHG Emission Reductions
1,133 tCO2-eq./year
= Reference CO2 emissions [tCO2/year]
     – Project CO2 emissions[tCO2/year]
= (Power generation after rehabilitation[MWh/year]
– Power generation before rehabilitation[MWh/year])
       × emission factor [tCO2/MWh]
JCM Methodology
| Methodology No. | Title | Methodology Proponent |
| --- | --- | --- |
| ID_AM021 Ver1.0 | Electricity generation by rehabilitation of run-of-river hydro power generation system(s) in Indonesia | Institute for Global Environmental Strategies |