Introduction of CNG-Diesel Hybrid Equipment to Public Bus in Semarang
Representative Participant

Hokusan Co., Ltd.
Partner Participant: BLU UPTD Trans Semarang
Not registered
Active
Outline of GHG Mitigation Activity
Toyama City has concluded a cooperation agreement between Semarang City to realize low carbon society under inter-city cooperation. Based on the cooperation agreement, this project aims to reduce GHG emissions through fuel switch from diesel to CNG. In the project, 72 diesel bases owned by Trans Semarang, including 25 large-sized buses and 47 mid-sized buses, are retrofitted from diesel engine to hybrid engine with CNG system available. These buses are considered more cost-effective through fuel switching.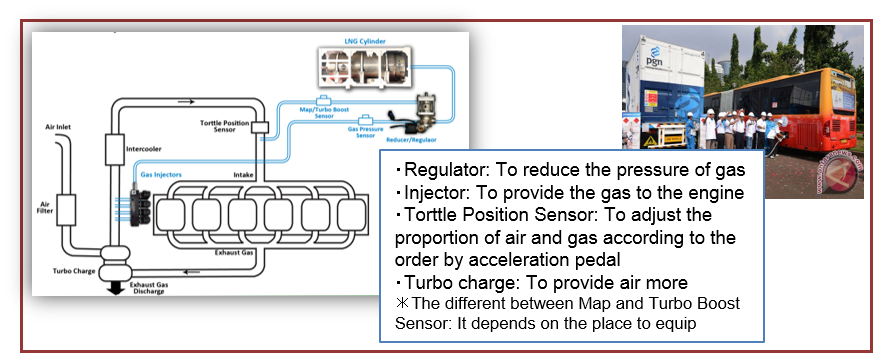 Expected GHG Emission Reductions
2,667 tCO2-eq./year
← Reference GHG emission – Project GHG emission
 = Reference fuel consumption x Fuel-based emission factor – Project fuel consumption x Fuel-based emission factor
Reference fuel consumption
 = Diesel fuel consumption based for bus operation x emission factor of Diesel fuel
Project fuel consumption
 = CNG fuel consumption for bus operation x emission factor of CNG + Diesel fuel consumption for bus operation x emission factor of Diesel fuel
JCM Methodology
| Methodology No. | Title | Methodology Proponent |
| --- | --- | --- |
| ID_AM026 Ver1.0 | Introduction of CNG-Diesel Hybrid Equipment to Public Buses | Hokusan Co., Ltd. |