Introduction of High Efficiency Ion Exchange Membrane Electrolyzer in Caustic Soda Production Plant
Representative Participant

AGC Inc.
Partner Participant: AGC Chemicals (Thailand) Co, Ltd.
Not registered
Active
Outline of GHG Mitigation Activity
AGC Chemicals (Thailand) Co. Ltd (ACTH) produces caustic soda and chlorine with old ion exchange membrane (IEM) electrolyzers in their Phrapradaeng factory. In this project, the old electrolyzers are replaced by the latest, i.e. the most advanced, IEM electrolyzers with the newest membrane in order to reduce power consumption largely, which leads to the reduction of environmental burden and production cost.
Compared to currently most used IEM electrolyzers, the latest electrolyzers have multiple improvements in electrodes, inner structures and membrane and these improvements contribute to lowering the resistance and power consumption.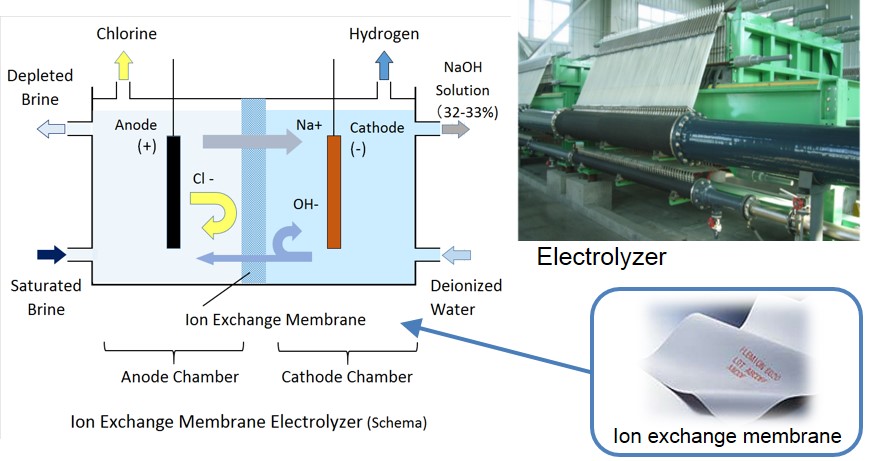 Expected GHG Emission Reductions
2,591 tCO2-eq./year
Emission reductions
= Reference emission reductions (RE) – Project emission reductions (PE)
RE: Amount of electricity consumption of a currently most used IEM electrolyzer is multiplied by the grid emission factor
PE: Amount of electricity consumption of a latest IEM electrolyzer is multiplied by the grid emission factor
JCM Methodology
| Methodology No. | Title | Methodology Proponent |
| --- | --- | --- |
| TH_AM015 Ver1.0 | Introduction of High Efficiency Electrolyzer in Caustic Soda Production Plant | AGC Inc.; AGC Chemicals (Thailand) Co.,Ltd. |