Introduction of Solar PV System at Shopping Mall in Ho Chi Minh
Representative Participant

AEON RETAIL Co., Ltd.
Partner Participant: AEON VIETNAM Co., Ltd.
Registered
Active
Outline of GHG Mitigation Activity
This project strengthens measures to save energy of the shopping mall in Ho Chi Minh City by introduction of photovoltaic power generation system on the roofs of car parking area and bicycle parking space for 100% self-consumption and enables reduction of power consumption purchased from EPS and CO2 emissions.
This shopping mall also introduces high efficiency equipment to strengthen measures to save energy as the "Low-carbon shopping mall". This project conforms to the environmental policy of the Vietnamese government and is expected to spread out as a model case.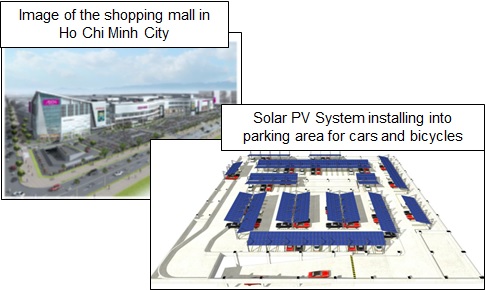 Expected GHG Emission Reductions
125 tCO2-eq./year
The amount of CO2 Emission Reduction by Solar PV System = (1)Reference emission – (2)Project Emission (1)Reference emission: (annual electrical power output (kWh) (Self-consumption)) x (grid electricity CO2 emission factor in Vietnam) = 125 tCO2/year (2)Project Emission:  0(Zero)
JCM Methodology
| Methodology No. | Title | Methodology Proponent |
| --- | --- | --- |
| VN_AM007 Ver1.0 | Installation of Solar PV System | Institute for Global Environmental Strategies |
Progress
JCM Project Registration
| Reference No. | Project Title | Registration Date |
| --- | --- | --- |
| VN007 | Introduction of Solar PV System at shopping mall in Ho Chi Minh | 15-Aug-18 |