Introduction of Energy-Efficient Air Conditioners in a Lens Factory
Representative Participant

RICOH COMPANY, LTD.
Partner Participant: RICOH IMAGING PRODUCTS (Vietnam) CO., LTD.
Registered
Credit issued
Active
Outline of GHG Mitigation Activity
This project aims to reduce energy consumption of the existing factory which manufactures lens for single-lens reflex camera in the east of Hanoi city, by replacing current air conditioners to more energy-efficient ones. Training for the labours in the factory is planned so as to achieve proper operation and monitoring of the emission.
Such introduction of the technology could also result in improvement of working environment for the labours, and in turn improvement of quality of the products as well as reduction of maintenance costs.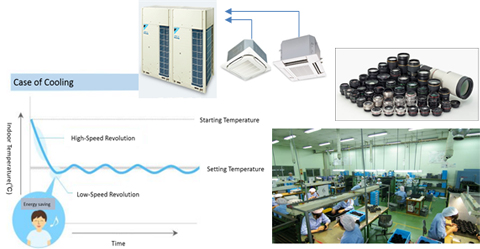 Expected GHG Emission Reductions
147 tCO2-eq./year
= (Reference CO2 emissions) [tCO2/year]
    − (Project CO2 emissions) [tCO2/year]
Reference CO2 emissions: 1,304.6 [tCO2/year]
Project CO2 emissions: 1,156.8 [tCO2/year]
JCM Methodology
| Methodology No. | Title | Methodology Proponent |
| --- | --- | --- |
| VN_AM006 Ver1.0 | Introduction of air conditioning system equipped with inverters | NTT DATA INSTITUTE OF MANAGEMENT CONSULTING, INC. |
Progress
JCM Project Registration
| Reference No. | Project Title | Registration Date |
| --- | --- | --- |
| VN009 | Introduction of Energy-Efficient Air Conditioners in RICOH IMAGING PRODUCTS (Vietnam) CO., LTD | 15 Aug 2018 |
Issuance of credits
| | Reference No. | Monitoring Period | Date of JC decision on notification | Amounts of Credits Issued |
| --- | --- | --- | --- | --- |
| - | VN009 | 06 Dec 17 - 30 Nov 18 | 11 Oct 19 | 28 |